MUDRA SCHEME DETAILS :
Micro Unit Development and Refinance Agency Ltd (MUDRA) has been launched by Hon"ble Prime Minister on 8th April 2015 as a new financial entity, for developing and refinancing as last mile financial intermediaries, like, Banks, NBFCs, Micro Financial Institution (MFI) etc. who are in the business of lending to even the smallest of the Micro Enterprises in manufacturing, trading and service sector. The definition of micro unit for the purposes of MUDRA's activities should not be linked with MSME or any other Act. This segment mainly consists of Non-Farm Enterprises in manufacturing; trading and services whose credit needs are up-to Rs.10Lakh.
For supporting to the scheme & as directed by Govt. of India " Prime Ministers Mudra Yojna (MUDRA)" PMMY was activated in Central Bank of India w.e.f. 08.04.2015.
Micro units of Individuals / Proprietorship / Partnership firms & Company running as Small Manufacturing Units, Professionals and Service Providers Units eligible to be covered under Prime Minister"s MUDRA YOJNA (PMMY) are eligible to be covered under Prime Minister"s MUDRA YOJNA (PMMY) in Rural and Urban areas with financing requirements of up-to Rs.10 lakh.
The position of Pradhan Mantri Mudra Yojana (PMMY) sanctioned by our Bank, year wise, under all the three categories since inception of the scheme is placed here below :
Any person of India can avail Mudra loan by applying online on udyamimitra.in portal by selecting nearest branch suitable to him and also visit the nearest branch for manual submission of the related papers of the project. No collateral security or any guarantor is required for availing loan under Mudra scheme. Application form is available on Bank's site.
Following are few success stories of borrowers along with the photographs and video:
Name of the Borrower: Shri. Naresh Mirlaya
Place: Chatta Bazar, Hyderabad
Bank: Central Bank of India
Activity: Mobile Accessories Store
Name of the Borrower: Shri. Raju Das Bairagi
Place: MPHB, Jabalpur
Bank: Central Bank of India
Activity: Fast Food Centre
Category: Shishu
Amount Disbursed: ` 50,000/-
Raju Das Bairagi was working as a cook for a catering service agency. His culinary skills are well known in his locality. He worked on daily wages for the catering agency which fetched him ` 200/- to ` 250/- per day. Because of his limited income, his family was in distress. One of his friend on a routine chat, persuaded him to start a small hotel by availing a loan from Pradhan Mantri Mudra Yojana (PMMY). Though initially Raju hesitated, he agreed to apply for a loan under PMMY. Raju approached the Central Bank of India, Milloniganj Branch and applied for a loan under PMMY. The bank was very supportive and sanctioned a loan amount of ` 50,000/- under Shishu category. With the loan amount, he rented a small space and started a fast food centre. Raju, now is able to generate an average income of ` 500/- to ` 600/- per day and is happy with a regular income. He is also now able to take care of the family needs. The business at the fast food centre is picking up fast and he thinks of expanding his business further very soon. The bank has also promised further support to Raju. He feels proud that he has been able to start his own business and provide employment to two more persons in his locality. From a job seeker he has become a Job provider, thanks to Pradhan Mantri Mudra Yojana
Name of the Borrower: Shri. Budhram God
Place: Seoni Malwa, MP
Bank: Central Bank of India
Activity: Vegetable Shop
Category: Shishu
Amount Disbursed: ` 20,000/-
Budhram, a native of Kharar village of Seoni Malwa in Madhya Pradesh worked as a daily wage labourer. He could not secure any regular work which could provided regular income. Due to this, his family was going through hard time. One of his friends, suggested him to go to any nearby bank and apply for loan under Pradhan Mantri Mudra Yojana. To start a small business of vegetable vending. Budhram approached Central Bank of India, Seoni Malwa branch. The Bank officials explained him the procedure of the loan application and the documents required. He applied for a loan of ` 20,000/- under the Shishu category. After completion of all necessary formalities the Bank sanctioned and disbursed the loan to Budhram. The loan was given in the form of Mudra Card and the bank officials explained to him how to use it judiciously. With loan amount availed through Mudra Card he purchase vegetables from the nearby wholesale market and sells in the small market nearby. As his income increased he rented a place and started his small vegetable shop. He saved his money through the judicious using of Mudra Card, and he could keep his interest liability to minimum. The Pradhan Mantri Mudra Yojana and the Mudra Card brought happiness to Budhram and his family as he has regular income now.
Name of the Borrower: Shri. Rapaka Krishna
Place: Thotapalem
Bank: Central Bank of India
Activity: Cloth Store
Category: Shishu
Amount Disbursed: ` 50,000/-
Rapaka Krishna, an illiterate person living at Thotapalem was working in a small cloth shop. Despite his hard work, his business was at a loss. He found difficulty in maintaining sufficient stock with latest trends due to lack of capital, moreover the cloth stocks were damaged by rats and rodents due to lack of proper storage area. As he was undergoing a crisis in his business he heard the good news through one of his friends about Pradhan Mantri Mudra Yojana, an initiative by the Government to provide assistance to the struggling businessman like him. He approached Central Bank of India, Thotapalem branch. With less efforts and fulfilling the procedures, he got a loan of ` 50,000/- under Shishu category. With the Mudra loan, Krishna refurbished his shop with proper storage space, bought sufficient stocks of cloth with latest trends and started his business afresh. His confidence and hardwork gave prudence in the form of good profit. He is also timely paying back EMIs to the bank. He feels lucky to have the support of PMMY and now leads a comfortable life.
Name of the Borrower: Shri. Rohit Prasad Maravi
Place: Rampur, Jabalpur
Bank: Central Bank of India, MPHB, Jabalpur,
Activity: Taxi Service
Category: Tarun
Amount Disbursed: ` 8,20,000/-
Rohit Prasad Maravi, a driver by profession was working with a taxi agency for a salary of `5,000/-. With such a meager salary, he could not meet the family expenses. He had the desire to start his own business, because of his low income level. However, since he did not have property to offer as collateral, he never thought of availing any bank loan. Rohit knowing about Pradhan Mantri Mudra Yojana through his friends, approached Central Bank of India, MPHB branch and got surprised that he can get Mudra loan even without collateral security. He applied for the loan under Tarun category, so that he himself can own a taxi. Looking into the experience of the applicant in the related field, the bank officials after due verification sanctioned the proposed loan under Mudra Yojana. Rohit Prasad Maravi purchased a taxi with the sanctioned loan amount and operates around Rampur. Now, Rohit is not only a proud owner of his vehicle and saves `17,000/- per month after paying his bank loan installment. His standard of leaving has improved as the income increased from `5,000/- to `17,000/-. He thanked Pradhan Mantri Mudra Yojana for bringing a hope for the hopeless.
 
Name of the Borrower: Smt. Arle Padmavathi
Place: Thotapalem, Vijayawada
Bank: Central Bank of India, Totapalem Branch
Activity: Vegetables Seller
Category: Shishu
Amount Disbursed: ` 40,000/-
Arle Padmavathi is a widow with two small children.She was going through a tough time in life. After her husband passed away, she lost the confodence and had no secured future. For livelihood to her family, she sold vegetables in the nearby market. For the daily vegetables stock purchase she used to borrow from a money lender at high rate of interest. The pressure of repaying the loans with high interest and worries about the children's future took a toll on her health. One day on a casual chat with one of her friends Arle Padmavathi shared her problems in anticipation for some financial help temporarily. From the chat, she came to know that through Pradhan Mantri's Mudra Yojana, oan is offered to the poor and small businesmen to promote their small business motives. She was eager to take this opportunity for expanding her vegetable selling business. After a couple of days she approached the Central Bank of India, Thotapalem branch and applied for a loan under Mudra Yojana. The loan amount of ` 40,000/- was sanctioned to her, after due verification of documentation. With that money Arle Padmavathi expanded her shop with variety of vegetables stock drawing more customers. With a good earnings daily, she could repay her loan EMIs on time and also could save some money for the future of her children. Arle Padmavathi slowly started gaining respect amongst her family members and also in the neighborhood. Mudra loan truly restored the life of a widow.
Name of the Borrower: Shri. Munna Raikwar
Place: Pathariajat, MP
Bank: Central Bank of India
Activity: Fisherman
Category: Shishu
Amount Disbursed : ` 42,000/-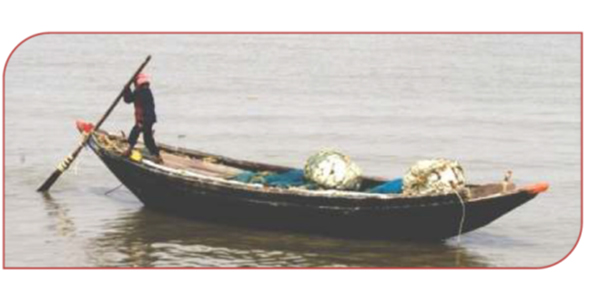 Munna Raikwar is a traditional fisherman doing ferrying in Sagar lake. He had an old small boat for ferrying people, which generated a decent earning. Sagar, a city aspiring to be a Smart City has various activities in and around Sagar lake. Though the earnings were good, Munna realized that the boat is becoming old and safety is important. He wished to buy a new Boat. He approached Central Bank of India, Ranipura branch for a loan to buy a new boat. The Bank officials apprised him about the Loan under Pradhan Mantri Mudra Yojana (PMMY) a scheme to support small entrepreneurs. Delighted to hear about the financial support through PMMY, Munna Raikwar submitted loan application, fulfilled all formalities for getting the loan. Soon from the bank, he received sanction for a loan amount of ` 42,000/- under Shishu Category. The loan enabled him to purchase a new and a bigger boat thereby reaping better earnings. His family is relieved and full of smile and happiness at the arrival of new boat.
Name of the Borrower: Shri. Vishnaram Kukaram Chauhan
Place: Naranpura, Ahmedabad
Bank: Central Bank of India, Naranpura, Ahmedabad
Activity: Sing-Chana Seller
Category: Shishu
Amount Disbursed: ` 30,000/-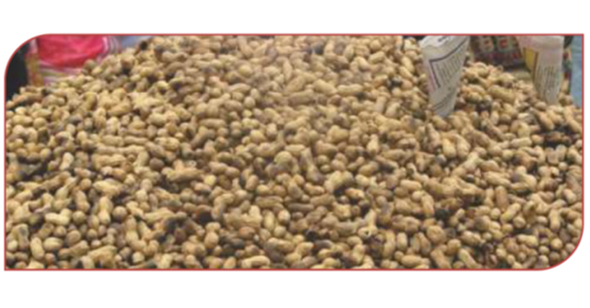 Vishnaram, a road side vendor used to sell groundnuts & grams ("Sing-Chana") near Naranpura, Ahmedabad. By buying and selling groundnuts and grams daily "Buy daily-Sell daily" basis in smaller quantities he was earning littleincome which was not sufficient to support his family needs. He and his wife along with two children depended totally upon his daily earnings to survive. Vishnaram had no savings and was worried about his future. As the days passed by, he explored the possibility of improving his business on a larger scale. One day he shared his vision with one of his regular client who informed him about the Mudra Yojana and advised him to approach the nearest bank for availing loan. Vishnaram approached the Central Bank of India, Naranpura Branch, Ahmedabad and met the bank officials, they provided the information regading the loan procedure and its benefits to him and extended financial assistance under the Pradhan Mantri's Mudra Yojna. As the aim of the Yojana is to encourage micro entrepreneurs, the Bank sanctioned a working capital limit of ` 30,000/- to Vishnaram. After getting financial assistance, he purchased sufficient stock for his business at competitive rates from the wholesale market. Now he sells the goods with a good margin. Vishnaram is now a happy man. Presently with numerous retail customers, he can keep sufficient stock of goods from time to time. A small financial help from the Bank has proved to be a boon for Vishnaram. Now, he repays his loan instalments regularly on time, and is also able to generate decent income, foreseeing a great future for his family.
True spirit and dedication towards work can make it possible to achieve the success and the promoters of 'True Colors' are good example for this.
Sanjay Desai, SagarMulani and AshishMulani are three friends and all three are engineers. All three were working in different multinational companies. Sanjay was working in China in Digital printer manufacturing company, SagarMulani was working in Ink manufacturing company and Ashish was also working in private company. At end of year 2012, all three decided to left the job and started own business in Textile digital printing field. Though Surat is textile hub of country,that time the digital printing on textile was new concept for Surat.
With arrangement of normal printer machine, they started R&D on machine working for printing on textile material, but initially they failed many times in implementing this process. After that, during June-July 2013, they again purchased different type of printer machine but again they failed to get desired result on textile printing as it was difficult to deal with filling of cartridges of ink and replacing it. It was difficult time for all three friends since their family members were also advising to join companies again for job. But, with new determination all three arranged about Rs 7.00 lakhs and purchased Digital printing machine from China. This time they got success with desired result of printing on textile.
They went to traders in different textile markets of Surat and convinced them about quality of printing and designing on cloths. It started to receive orders in small quantities and from profit they started to purchase more digital printing machines one by one. But with increase in orders they faced difficulty in working capital requirement and approached to Central Bank of India, MSME Cell, Surat and in Feb 2017, was sanctioned limit of Rs 85.00 lakhs for digital printing job work under partnership firm True Colors Print of Sanjay Desai and SagarMulani and the a/c is running satisfactory with Rustompura branch.
Also, with increase in scope and demand for digital printing on textile,they started to supply the digital printing machines and required ink under proprietorship firm True ColorsImpex, to different textile units in Surat. For this purpose again they approached to MSME Cell, Surat for finance in trading of machines and ink and in Nov 2017 were sanctioned limit of Rs 295.00 lakhs and the a/c is running successfully with Sahara Darwaja branch.
Today, True Colors is brand in Surat Textile industry for digital printing. Now, firm is also going to focus on its backward integration to reduce its production cost and increase profit margin. For this purpose, partnership firm M/s True Colors Print approached to bank and in Aug 2018, MSME Cell Surathas sanctioned loan of about Rs 83 lakhs to make it more efficient which will help to reduce the cost on production/job wok.
The work which was started with three friends is now place of employment to nearly 225 employees, 25 digital printing machines for job work, with combined turnover more than Rs 40.00 crupto Mar 18 and this year from april 18 to sept 18 till now made turnover of Rs. 32.00 cr. Also with supply of machines and ink to different textile unit, they are helping to generate the employment in textile industry.
Partners of True colors told that we are thankful of Central Bank of India MSME CELL Surat for the help we got when we needed it most, without this help we can not touch our figures of turn over. Now we are recommending our customers to Central bank of India for financial assistance.
Small Loan under MUDRA changed life of Firozkhan Baghban.M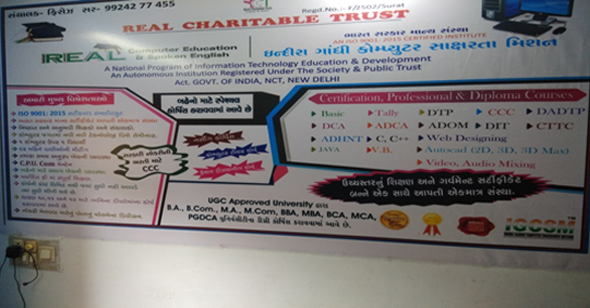 Mr Firozkhan has done graduation and then has completed computer diploma course. Earlier he was working with private Computer Institute as instructor and also was doing computer repairing work from home. Then during Jan-Feb 2016, he got to know from advertisement about MUDRA scheme, a flagship Government programme to focus on development of self-entrepreneurship among youth and generation of employment. Earlier he was participated in National Skill Certification and Monetary Reward scheme, known as 'STAR' (Standard Training Assessment and Reward), which is run by Ministry of Skill Development and Entrepreneurship. During this training he opened the saving a/c with Central Bank of India, Nanpura branch. So, when he decided to start his own computer Institute, he approached to Nanpura branch and applied for the MUDRA loan of Rs 195000/- for set up of 10 Computers and other required basic furniture items for computer classes.
After sanction and disbursement of loan in Feb 2016, he set up the computer class in name of 'REAL Computer Education & Study Classes' at 12/1436, Fatema Zohara Manzil, near Rose Nursery School, Shahpore Char Rasta, Surat. Firstly he stared with 10-12 students for computer classes and used to teach to student on his own. Then step by step, the number of students got increased and then Firoz started to add different computer courses in his class such as Tally, DTP, CCC, DIT, Web Designing, JAVA, VB and others. For this purpose with increase in students Firoz appointed teaching staff for different batches. Also, he started to take orders for the different computer job work.
Today, about 140-145 students are taking the computer training in REAL computers and 7-8 individuals are working under his institute including computer faculty, Marketing executive and others. Also, Firoz is now running different government sponsored schemes for Skill training and employment generation like 1. DAY-NULM, 2.Gujrat Urban Livelihood Mission, 3.Indira Gandhi Computer Literacy Mission etc So, overall, one small loan has changed the life of Firozkhan Baghban and he is very much thankful to Central Bank of India for the help he got when it need the most.
Following are few success stories of borrowers along with the photographs:
Unit Details
Name of the borrower & address: M/s MALSAWM HANDLOOM, ZOTLANG, AIZAWL.
Branch Name and Address: AIZAWL BRANCH, ZARKAWT MAIN STREET, AIZAWL, MIZORAM-796001.
Date of Sanction of the Loan : 25/02/2016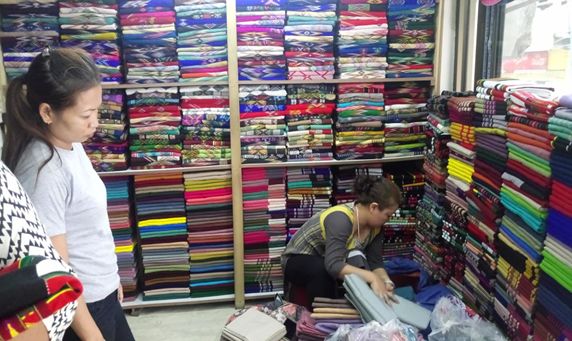 Details of the Unit :
The unit is involved mainly in sales of handloom items. Mizoram, being a state mainly populated with Mizo tribes, production of handloom materials through manual traditional weaving method is widely popular. So, there is huge production of handloom clothes and fabrics across the state, however there is a gap of displaying the products to the common public in both local market and to other states. So, Malsawm Handloom is mainly focused on bridging the gap between the producer and consumer. The unit collects the product both from their own manufacturing unit and also from the small scale producers and supply the products to the market. The main motif of this unit is to provide a platform for reaching out to the market.
The borrower is maintaining the nature of transaction in the Cash Credit Account bearing no, 3523123449, in a satisfactory nature. They are performing transaction in daily basis, pertaining to a total turnover of Rs. 12002448.00 (One Crore Twenty Lakhs Two Thousand Four Hundred and Forty eight only) for the year 2016-17. The unit apart from generating income and sales, they are also providing employment to few people. As of now, they are employing 4 workers, who are very much active and perform the duties allotted to them in a positive nature.
As being confirmed form the borrower, generally the monthly sales and profit varies with the season, and also with the basis of festival nature. In normal days, they use to have monthly Net profit of approximately Rs.120000.00 (Rupees One Lakh Twenty Thousand Only). But during festive seasons, the Net profit use to raise upto Rs. 350000.00 (Rupees Three Lakh Fifty Thousand only).
Why it is a success Story :
In every sector of entrepreneurship, there arises a requirement of capital expenditure, even though presence of a good business idea is with the person. With the introduction of the Pradhan Mantri Mudra Yojna, there was a hope for easy financial assistance from the banks. Just in the same way, there was shortage of capital expenditure for the establishment of the unit, M/s Malsawm Handloom. But, by availing the financial assistance from the bank, Central Bank of India, Aizawl Branch, they were given an opportunity to establish their own unit by making up their dreams of their own entrepreneur firm. At the beginning, there were some difficulties in achieving the sales and profit, due to less connection base with the consumers. But with the passing time, they started making a relationship with the consumers, thereby generating a base of connection, which gave a major pathway for making up with the business.
As of the present scenario, M/s Malsawm Handloom, is running their business in a satisfactory nature, generating minimum net profit of approximately Rs. 120000.00. And also if it is a festive season, they use to raise their net profit upto Rs. 350000.00 monthly. Apart from generating income and profits, this unit is also playing a delivery channel for the produces form the local mortar pestle units, giving them a chance to deliver out their products. This small unit is also giving employment to 4 persons, which is small in number, yet highly valued for the concern individual.
The sales and performance of their business is mainly mirrored in their nature of transaction at the bank level, making upto an annual turnover of Rs 12002448.00 (Rupees One crore Twenty Lakhs Two Thousand Four Hundred and Forty Eight only). And also, they are performing their transaction on daily basis, thereby maintaining a good relation with the bank. Pertaining to the achievements and performance of the unit, they have somehow achieve their dreams and gained a prestige in the society.
Key Success Factors: Hard work and Concentration towards the goal.